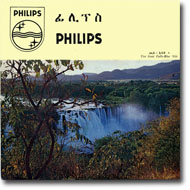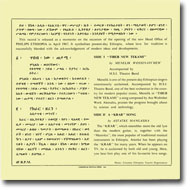 MENELIK WOSSINATCHEW: Tibeb New Tekami
ASTATKE MANGASHA: Krar Song
Menelik Wossinatchew: Tibeb New Tekami (Modern Ethiopian Music)
Written by Wubishet Work Alemahu
Accompanied by the Haile Selassie I Theatre Band

Astatke Mangasha: Krar Song (Ethiopian Traditional Music)

Year: 1967
Record pressed in Holland

Click here for bigger scans.

Note: Astatke is spelled "Estatke" on the label.

On the sleeve there are liner notes, both in Amharic and English:
This Record is released as a momento on the occasion of the opening of the new Head Office of PHILIPS ETHIOPIA in April 1967. It symbolises present-day Ethiopia, where love for tradition is successfully blended with the acknowledgment of modern ideas and developments.
Menelik is one of the present-day Ethiopian singers unanimously acclaimed. Accompanied by H.S.I. Theatre Band, one of the best orchestras in the country for modern popular music, Menelik in "TIBEB NEW TEKAMI" a song composed by Ato Wubishet Work Alemahu, praises the progress brought about by science and technology.
The "KRAR", which resembles more the old lyre than the modern guitar, is, together with the "Masinko", the most popular of the traditional musical instruments in Ethiopia. Astatke has been playing the "KRAR" for many years. When he appears onTV, he is acclaimedby both old and young. Here, you can hear him play one of his favourite love songs.
| | |
| --- | --- |
| | |
Many thanks to Duncan Brooker for sending the label scans!
Many thanks to Francis Falceto for sending the scans of the sleeve!